Graveside & Gravesite Memorials
This section of our website and its bouquets are intended for gravesite placement, meaning someone who has already been interred. We also offer a service of photographing your arrangement to be delivered at the gravesite for a nominal fee. Please call us at 951-789-6375 for more information.
---
Riverside National Cemetery
---
BE ADVISED: The cemetery rules, regulations and proceedings are subject to change at any given time. We will not be responsible for any such changes. For up to date information please call the cemetery (951) 653-8417.

This section of our website was created to help our customers better understand how Riverside National Cemetery runs their funeral services. Many of our customers call in and express their concern for prompt delivery of their flower arrangements. Not to worry! We deliver there on a daily basis and most often more then one service per day. We have years of experience delivering to the cemetery and have good communication with the cemetery representatives.
How to order flowers for a funeral service:
First, you will be asked for a date and time along with a staging area number. Please have the name of the deceased (Full legal name) and not a family members name. We (the florist) will be needing this information to deliver.
Service / funeral procedure for Riverside National Cemetery:
When you arrive at Riverside National Cemetery, you will pull up to the information booth. They will direct you to the service you are attending.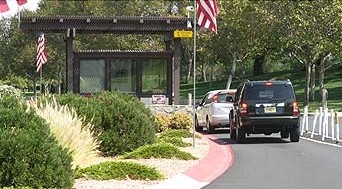 SERVICE TIME: Please note that there are up to 45 services running a day. The actual time of the service is very important. Please call Riverside National Cemetery at 951-653-8417 to confirm date, time and staging area number. This must be provided to us, the florist, upon ordering. We are not liable for incorrect information resulting in late deliveries. (If the wrong information is given, the arrangements will be placed on the gravesite)
STAGING AREA: Please note the staging area is just used as a parking area- a place where family and friends can park and gather minutes before the actual service. For instance, if you were told to meet at staging area 2, you will look for a posted sign which reads Staging Area 2 .Then if you look on the pavement you will see a red zone ( do no park in the red zone- this is parking for the Hurst and/or representative of the cemetery) keep this area clear and park BEHIND this zone. DO NOT park ahead or across because you will be in the wrong service.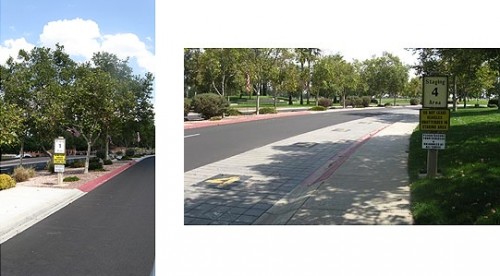 TIME: For example, if you were told the service is at 10:15 that's when the representative drives up and parks in the red zone. He/she will get out and talk to the immediate family. This is the time were all family and friends return to their vehicles and get ready to follow the representative. (Do not carpool from here, take your vehicle) You will then follow the representative to a committal area. (Note: Do not arrive more than 30 minutes ahead of schedule because you will be asked to wait elsewhere).
COMMITTAL AREA / SHELTER: is just like an outdoor patio. Each shelter has a name, A through G. The letter of the shelter is not known until minutes before the representative arrives at the staging area. The representative will then count all vehicles in your service and decide which shelter your service will be held at because all shelters have driveways with different lengths.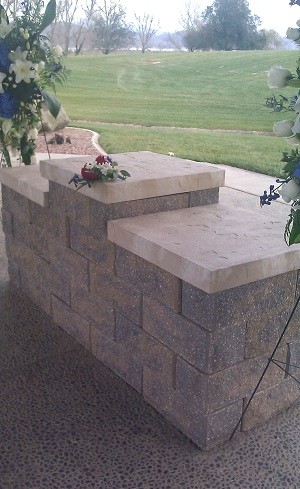 Once you arrive to the shelter, the actual service runs 20-30 minutes long. Be sure to quickly exit your vehicle and walk to the shelter immediately. When the service is over, be sure to take all your belongings with you. The next of kin will have the choice of taking the flowers home or leaving them at the gravesite location.
Note: Actual gravesite locations may not be available for family members to visit right away. Up to 3 flower arrangements will be taken to the grave site by cemetery employees and placed on top or nearby. Therefore, they do not want an excessive amount of arrangements. We have delivered to services that have well over 30 flower arrangements and they will not turn flowers away for the service. However, you will likely be asked to take some with you. You may donate them to the "grave of the unknown" ask your representative for more information.
GATHERING TIME: Once the service is over, do not stay at the shelter. If you do, u will be interrupting the next service that will be taking place shortly. If you would like to congregate, it would be best if accommodations were made elsewhere. For instance, at home or a nearby restaurant, for example.
*Flower Arrangement Recommendations:
#1: Standing sprays, wreaths, crosses, open hearts, solid hearts. (recommended because of the wide-open space where the services are held.) Most likely these types of arrangements will go to the grave site.
#2: If there will be an urn present (cremation) a centerpiece or wreath to go next to or around the urn is our next suggestion. This arrangement, along with the urn will go on top of a table. (table dimensions: top is square 2ft x 2ft - and is approx. 3.5 ft in height) most tables have 3 tiers ,as shown in the picture and few have one tier.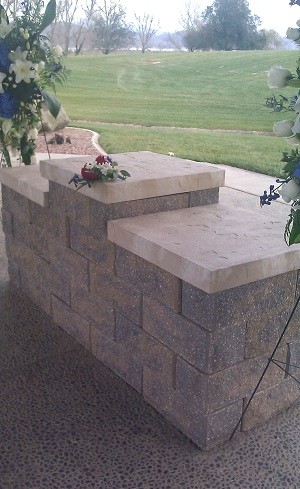 #3: Basket arrangements of fresh flowers (these will most likely be set on the floor) Easy to transport, can take home or leave at grave site.
#4: Plant/Garden basket, or a single potted plant. Easy to transport, intended to be taken home. Fresh flowers may also be added.
Additional services:
*One-time, weekly, bi-weekly, monthly & holiday deliveries to plots/ gravesites are available, please call us for more information. 951-789-6375. A photo of gravesite deliveries is also available to you for a small nominal fee.
Example of grave-site memorial arrangement.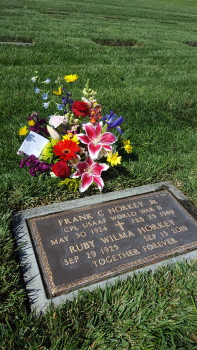 *Visit our Floral Vending Machine on site: This machine has 16 different flower arrangements to choose from. It has a touch screen & takes most major credit cards as well as cash (No change will be given, but credit vouchers will be awarded). Located in the lobby of the administration building. Fast, easy & convenient.
*Floral policy rules for cemetery grounds as posted :
Cemetery policies are conspicuously posted and readily visible to the public.
Floral arrangements accompanying the casket or urn at the time of burial are limited to five arrangements and will be placed on the completed grave. They will be removed when they become unsightly or within three days of the burial.
Natural cut flowers may be placed on graves at any time of the year. They will be removed and disposed of when they become unsightly or when it becomes necessary to facilitate cemetery operations. Visitors may contact the office staff to learn when upcoming grounds maintenance activities will require removal of floral tributes. Regular floral removal schedules are posted at the temporary floral vase trees located throughout the cemetery.
Artificial flowers and potted plants are not permitted on graves at any time.
Privately owned, permanent in-ground flower containers are not permitted on gravesites.
The cemetery will provide temporary metal containers to the public for displaying floral arrangements.
When placing floral items, please do not use glass containers, rocks, wire or other objects that could cause injury to cemetery staff or visitors. Mowers and trimmers can cause unseen items to become dangerous projectiles.
Permanent plantings, statues, vigil lights, breakable objects and similar items are not permitted on the graves. The Department of Veterans Affairs does not permit adornments that are considered offensive, inconsistent with the dignity of the cemetery or considered hazardous to cemetery personnel. For example, items incorporating beads or wires may become entangled in mowers or other equipment and cause injury.
Permanent items removed from graves will be placed in an inconspicuous holding area for one month prior to disposal. Decorative items removed from graves remain the property of the donor but are under the custodianship of the cemetery. If not retrieved by the donor, they are then governed by the rules for disposal of federal property. They will not be sold, collected for sale or recycling, or removed.
Restaurants near Riverside National Cemetery appropriate for large parties
of 10+.
We recommend calling in advance to make reservations.

Maddilicious Cafe & Catering
(951) 565-8228
141 Alessandro Blvd Suite 10-A, Riverside, CA 92508

Joe's Italian Restaurant
(951) 653-3093
22308 Alessandro Blvd. Moreno Valley, CA 92553

The Mexican Kitchen
(951) 780-2034
17028 Van Buren Boulevard Riverside, CA 92504

Creola's Steakhouse & Fine Dining
(951) 653-8150
1015 E Alessandro Blvd, Riverside, CA 92508

Romano's Chicago
(951) 780-7399
285 E Alessandro Blvd. Riverside, CA 92508

Ripsik's Mediterranean and American Grill
(951) 789-0755
16810 Van Buren Boulevard, Riverside, CA 92504

Gandhi Indian Cuisine & Banquet
(951) 653-4147
1355 E Alessandro Blvd. Riverside, CA 92508

Dragon House
(951) 653-1442
22456 Alessandro Blvd. Moreno Valley, CA 92553

If you own a business near Riverside National Cemetery and would like to be
mentioned here because you can provide a special service to its patrons,
please call us. We love to recommend & support our local businesses.