Riverside National Cemetery
Riverside National Cemeteries Funeral Service Procedures:
PLEASE BE ADVISED:
The cemetery rules, regulations and proceedings are subject to change at any given time. We will not be responsible for any such changes. For up to date information please call the cemetery
(951) 653-8417.
Riverside National Cemetery Address:
22495 Van Buren Blvd.
March Air Force Base / Riverside, Ca. 92518
This section of our website was created to help our customers better understand how Riverside National Cemetery runs their funeral services. Many of our customers call in and express their concern for prompt delivery of their flower arrangements. Not to worry! We deliver there on a daily basis and most often more then one service per day. We have years of experience delivering to the cemetery and have good communication with the cemetery representatives.
How to order flowers for a funeral service:
Please have the name of the deceased (Full legal name) and not a family member's name. We (the florist) will be needing this information to deliver successfully. Official time and date will be needed as well. We are not liable for incorrect information resulting in late deliveries. (If the wrong information is given, the arrangements will be placed on the gravesite or donated) Please call Riverside National Cemetery at 951-653-8417 to confirm the date & time. Or view their daily burial schedule website page at https://www.cem.va.gov/dailyburialschedule/index.asp
Service/funeral procedure for Riverside National Cemetery:
Arriving at Riverside National Cemetery, you will drive up to the information booth and an employee will direct you to the assigned Cortege Lane for your service. Note: Do not arrive more than 30 minutes ahead of time because most likely, you will be asked to wait elsewhere.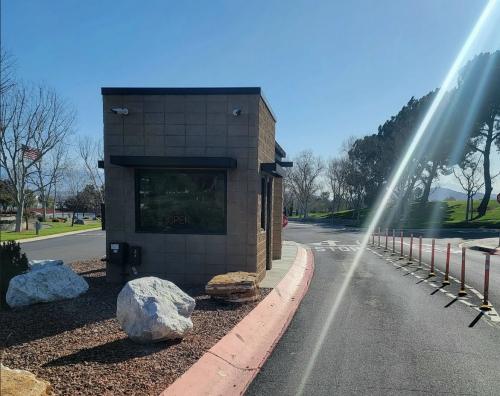 Cortege Lanes:
CORTEGE LANES: are used as a parking area- a place where family and friends can park and gather minutes before the actual service. Please park in a single file line in the correct lane and behind the red zone. These lanes are located at the very back of the cemetery.
In just a few minutes before your service time, a Riverside National Cemetery representative will drive and park ahead in the designated red zone. He/she will get out of their vehicle and approach the next of kin to discuss details. From here, return to your vehicle (do not carpool) and prepare to follow the representative to the "Commitial or Shelter Area".We (the florist) will use this time to talk with the representative and/or next of kin to hand off flowers to them or set them up at the shelter if instructed to do so only by the representative.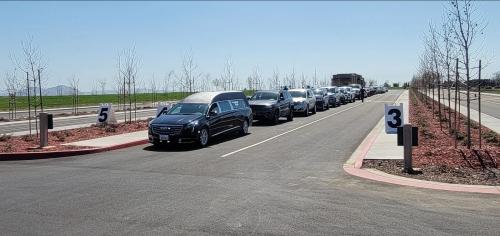 Committal Area/ Shelter:
COMMITTAL AREA / SHELTER: is just like an outdoor patio. Each shelter has a letter designation, A through L. The location of the shelter is unknown until the representative arrives at the staging area. The representative will then count all vehicles in your service and decide which shelter to occupy based on size.
Once you arrive at the shelter, the actual service runs 20-30 minutes long. Be sure to quickly exit your vehicle and walk to the shelter immediately. When the service is over, be sure to take all your belongings with you. The next of kin will have the choice of taking the flowers home or leaving them at the gravesite location. Once the service is over, do not stay at the shelter. If you do, you will be interrupting the next service that will be taking place shortly. If you would like to congregate, it would be best if accommodations were made elsewhere. For example, at home or a nearby restaurant.
Note: Actual gravesite locations may not be available for family members to visit right away. Up to 3 flower arrangements will be taken to the grave site by cemetery employees and placed on top or nearby. Therefore, they do not want an excessive amount of arrangements. We have delivered to services that have well over 30 flower arrangements and they will not turn flowers away for the service. However, you will likely be asked to take some with you. You may donate them to the "grave of the unknown" and ask your representative for more information.

Flower Arrangement Recommendations:
#1: Standing sprays, wreaths, crosses, open hearts, solid hearts. (recommended because of the wide-open space where the services are held.) Most likely these types of arrangements will go to the grave site.
#2: If there will be an urn present (cremation) a centerpiece or wreath to go next to or around the urn is our next suggestion. This arrangement, along with the urn will go on top of a table. (table dimensions: top is square 2ft x 2ft - and is approx. 3.5 ft in height) most tables have 3 tiers ,as shown in the picture and few have one tier.
#3: Basket arrangements of fresh flowers (these will most likely be set on the floor) Easy to transport, can take home or leave at grave site.
#4: Plant/Garden basket, or a single potted plant. Easy to transport, intended to be taken home. Fresh flowers may also be added.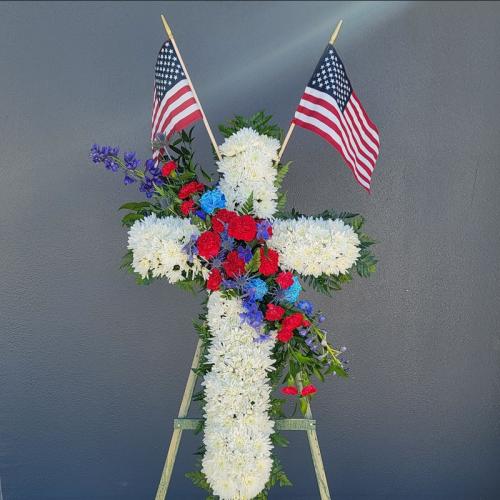 Graves Site Floral Delivery Services:
We offer:
*One-time, weekly, bi-weekly, monthly & holiday floral deliveries to gravesites are available, you may place and order online ( see "Grave Site Flowers" category) please call us for more information 951-789-6375 A photo of gravesite deliveries is also available to you for a small nominal fee. Example of grave-site memorial arrangement is pictured here.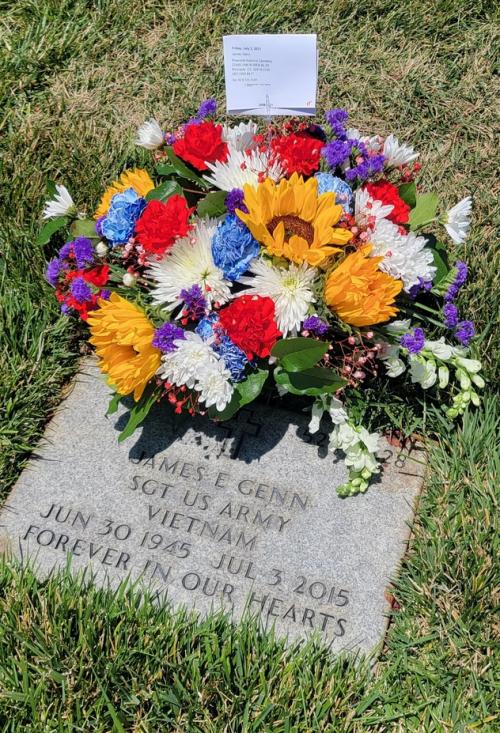 WEEKLY FLORAL PICK-UP SCHEDULE FOR
RIVERSIDE NATIONAL CEMETERY:
SECTIONS: PICK-UP: MOWED:
5 thru 10
12 thru 21
64 thru 82 MON TUES
1 thru 4
29 thru 31
11,33,48 & 50 TUES WED
26 thru 28
32
34 thru 44 WED THURS
45 thru 47
49
51 thru 61 THURS FRI
Flowers Sold at Riverside National Cemetery
Riverside National Cemetery's Florist.
*Visit our Floral Vending Machine on site at the Administration Building: This machine has 16 different flower arrangements to choose from. It has a touch screen & takes most major credit cards as well as cash (No change will be given, but credit vouchers will be awarded). Located in the lobby of the administration building. Fast, easy & convenient. (LAST UPDATED 10/18/21: ADMINISTRATION BUILDING IS CLOSED FOR REMODELING)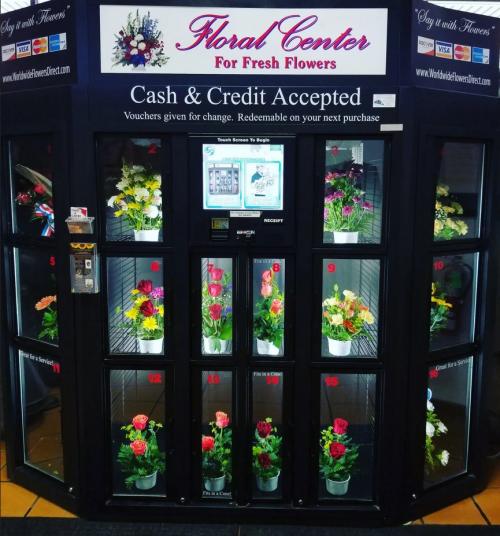 Additional Services & People Recommended:
Chaplain & Reverend:
Chaplain Joe Andersen & Reverend Erica Andersen
a husband and wife team to suit your needs.
Visit their website www.SoCalClergy.com
Josephandersen@verizon.net 951-757-5875
Ericaandersen@frontier.com 951-757-5232
Bag piper:
Darrell Calvillo
www.darrellcalvillo.com
darrellcalvillo@gmail.com 626-826-0381
Bag piper:
Tress Maksimuk
www.darkislepiper.com
darkislepiper@gmail.com 909-709-7363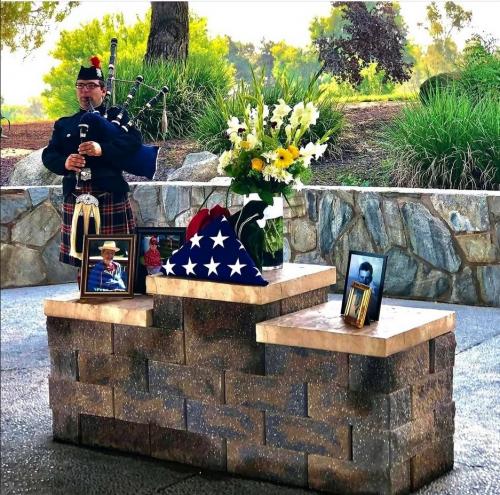 Restaurants for large parties near Riverside National Cemetery.
RECOMMENDED RESTAURANTS IN THE AREA: Please call ahead
Joanna's Cafe 951-789-8843
Maria's Mexican Kitchen 951-780-2034
Cactus Cantina 951-789-0211
Romano's Pizza 951-780-7399
Gra Pow Thai 951-780-1132
Pepitos Mexican 951-776-8262
Joe's Italian 951-653-3093 (Moreno Valley)
The Old Spaghetti Factory(Downtown Riverside)
951-784-4417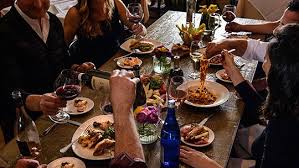 Map of Riverside National Cemetery:
Click the link below to find a grave site:
https://gravelocator.cem.va.gov/ngl/index.jsp